February 21st, 2015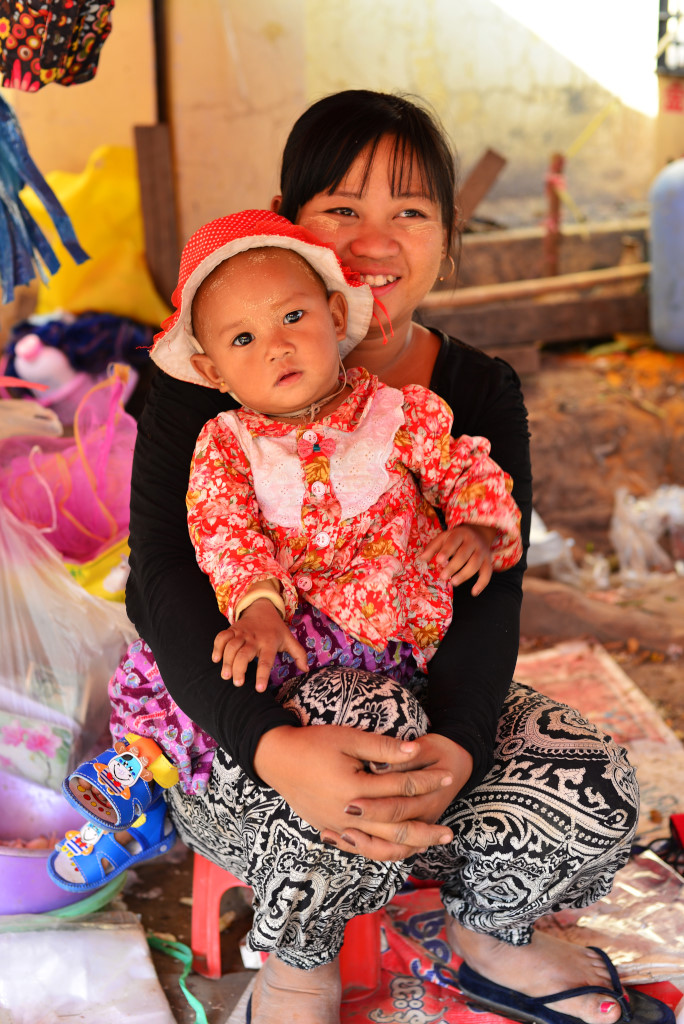 I plan on spending the day in Bhamo, walking around town and getting a different view of the sights, and hopefully also spending enough time in my small but comfortable room to try and catch up in my journal.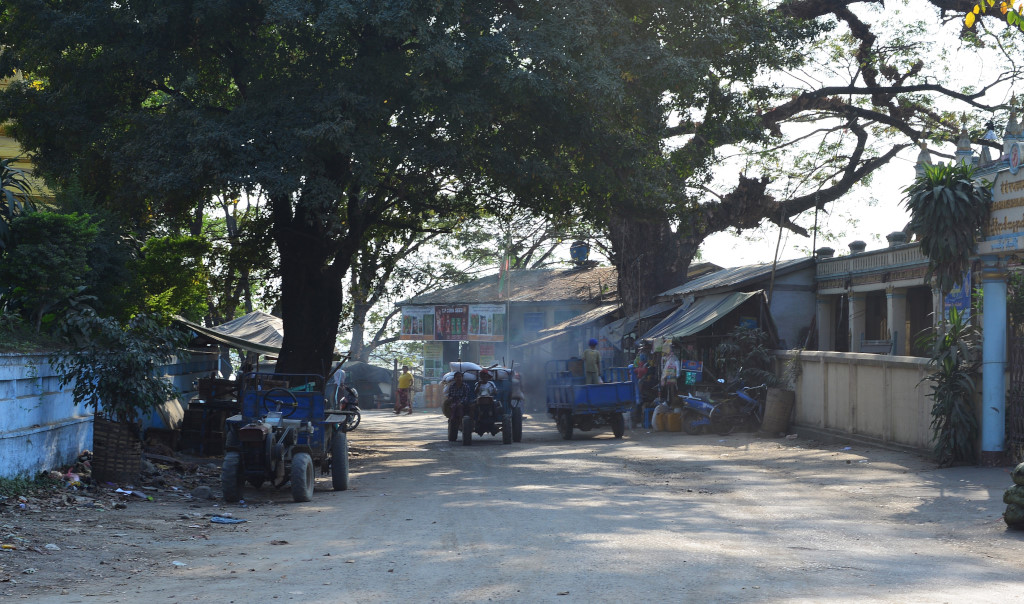 The internet here is truly atrocious, gmail only usable in html mode, Facebook a write-off altogether, and Yahoo mail usage vaguely possible at the best. There are two routers on every floor in the hotel – but the problem is not with the routers, as the back end is simply terrible.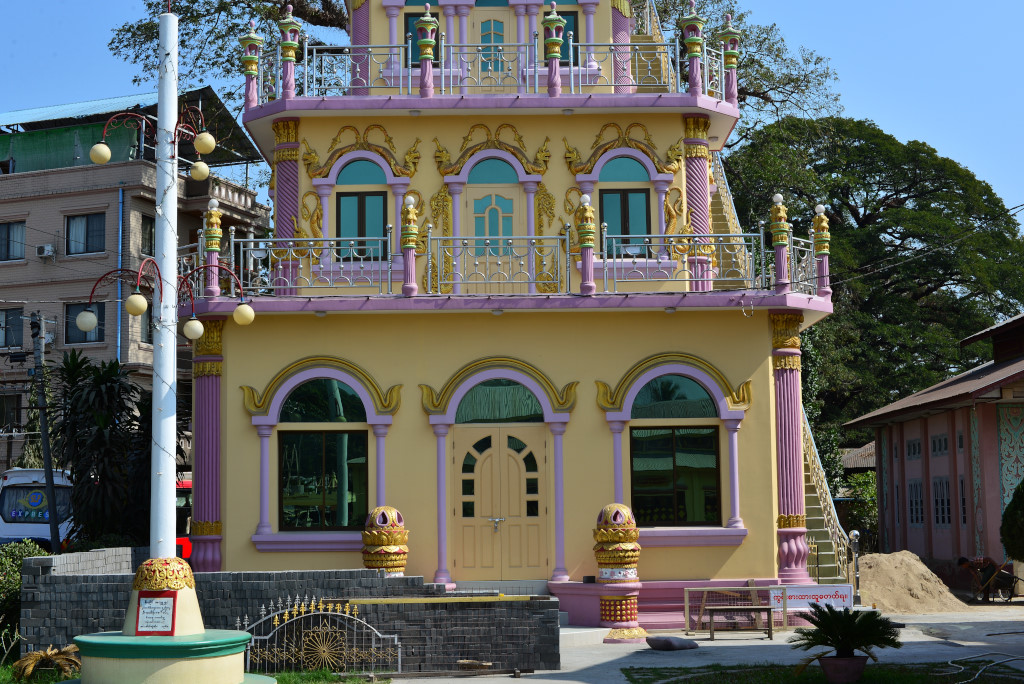 The exceedingly friendly and helpful staff at the front desk answers another series of questions regarding travel times to towns further south on the river, although I am not quite reassured that it is OK to take the faster longboats, the Lonely Planet travel guide being quite clear about the fact foreigners should not be taking these boats. And yet when I look for the MTT office for advice, using the information on the handout for Bhamo, it takes some wandering around the alleys in the area to realize that the office is not just nowhere near where it is supposed to be on the map, but it is also shut for the day, as it is Saturday. So it looks like I may have to just see how things go tomorrow morning.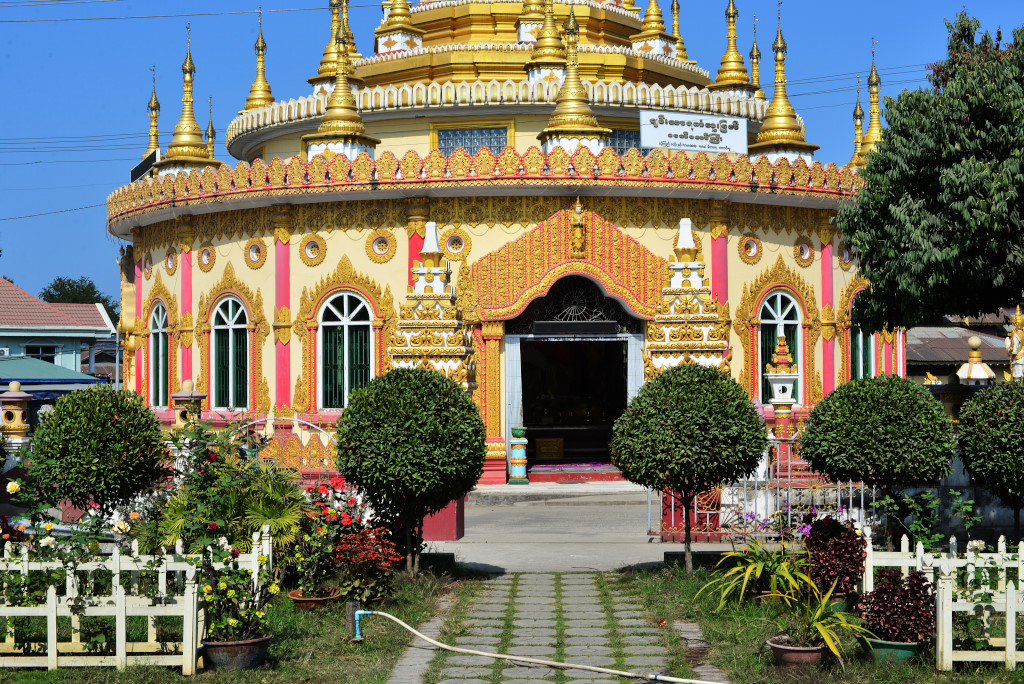 The monastery east of the Paradise hotel is alluring, but not the rabid pack of dogs that infests the temple, the local monks intent on doing nothing to stop them from attacking me. Well, I am not in the mood for it, and hurl myself at the nearest ones with rocks in hand – and their aggressive barking becomes frantic yelping as they vanish, now leering at me from a distance with their panic-stricken eyes.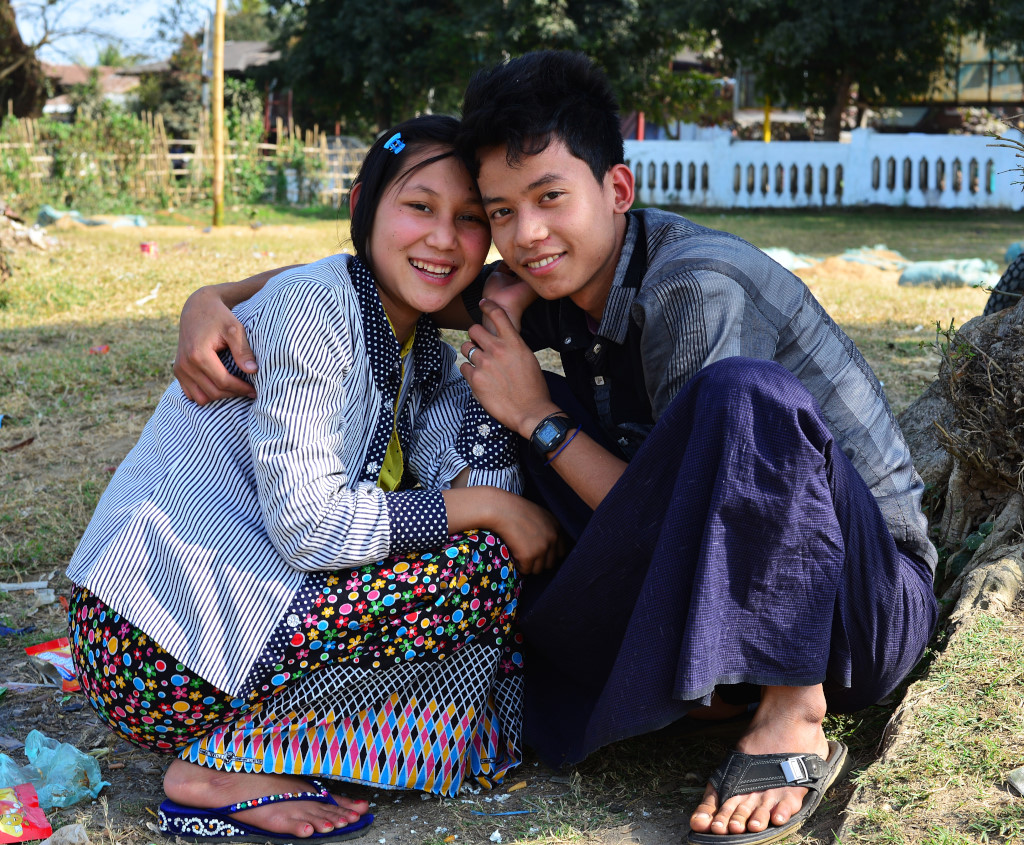 The assembly hall features the typical tiered gabling and elaborately crafted golden bargeboards, a unique touch being provided by the wedding cake-styled clock tower with sidelong staircases leading over a succession of levels to the small golden stupas crowning the structure. The circular structure across the street is also built in terrace fashion, each layer ringed with miniature golden stupas, the interior four orange-swathed golden Buddhas in clasped-hands position. Other than a few monks, there is only a lone young couple engrossed in quiet conversation.

The scenic quality of the area does not abate with the mighty frames of the ancient trees reflected in the small lake further to the east, another convenient spot for young lovers to find some privacy. Rambling semi-derelict teak bungalows give way for a vast green space to the back of which lies a lengthy, two-storied teak bungalow, which according to the not very trustworthy town map I am carrying around may be a government building of some sort.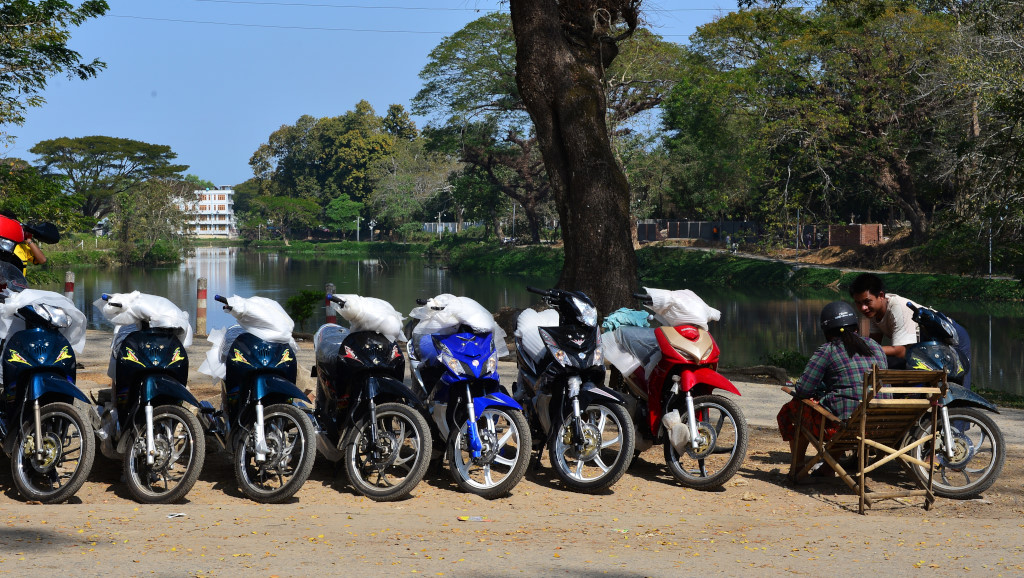 Happily, the streets are virtually empty on this Saturday afternoon, the air clear and sunny, the ring road in particular offering a tranquil walk around the perimeter of small Bhamo, the trees draped over the broken asphalt, various police, government, and NGO organizations lining the road on either side of the hospital that I passed through yesterday on the way from the airport.


The Theindawgyi Paya represents probably the signature Buddhist temple complex in Bhamo, with some unique characteristics, as a golden naga sculpture accessible by means of a small bridge on a lake, around one end of the lake a serpentine of equally-sized statues of bowl-bearing monks. The grounds contain entirely disparate structures, by the looks of it more being added without necessarily contributing to the overall coherence, but that is perhaps not essential to the idea of gaining merit.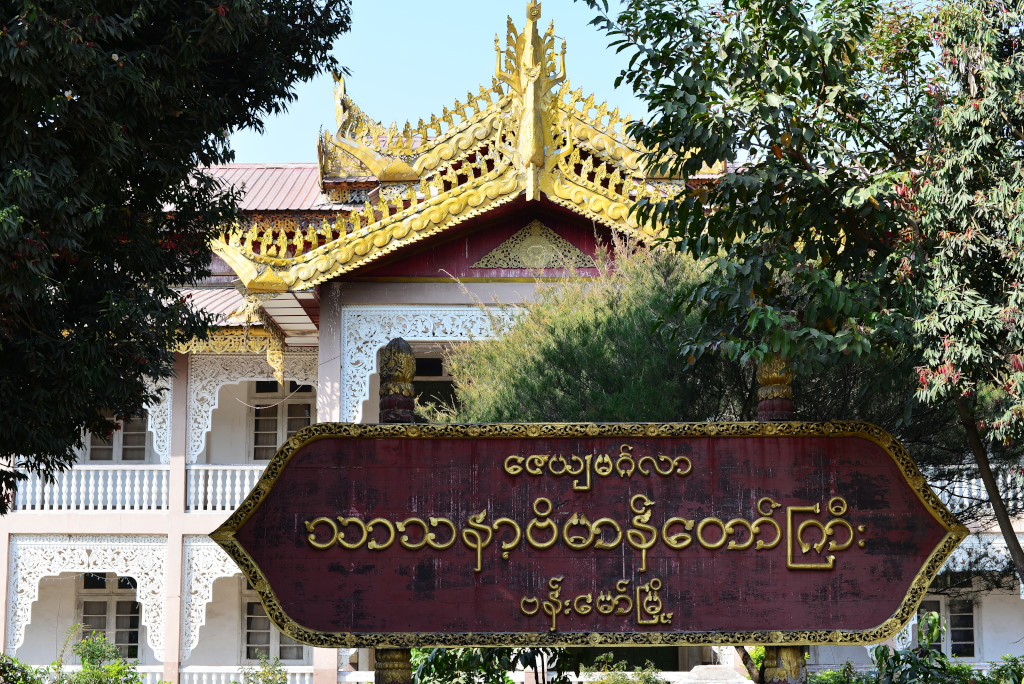 A four-storied monastic building sits further to the south, the stand gold-bearing gabled roofing, wooden shuttered and fanlight-crowned windows evenly spaced across the cream facade. Young lovers gather in the privacy of the temple grounds, the resident dog population too exhausted to be interested in challenging visitors.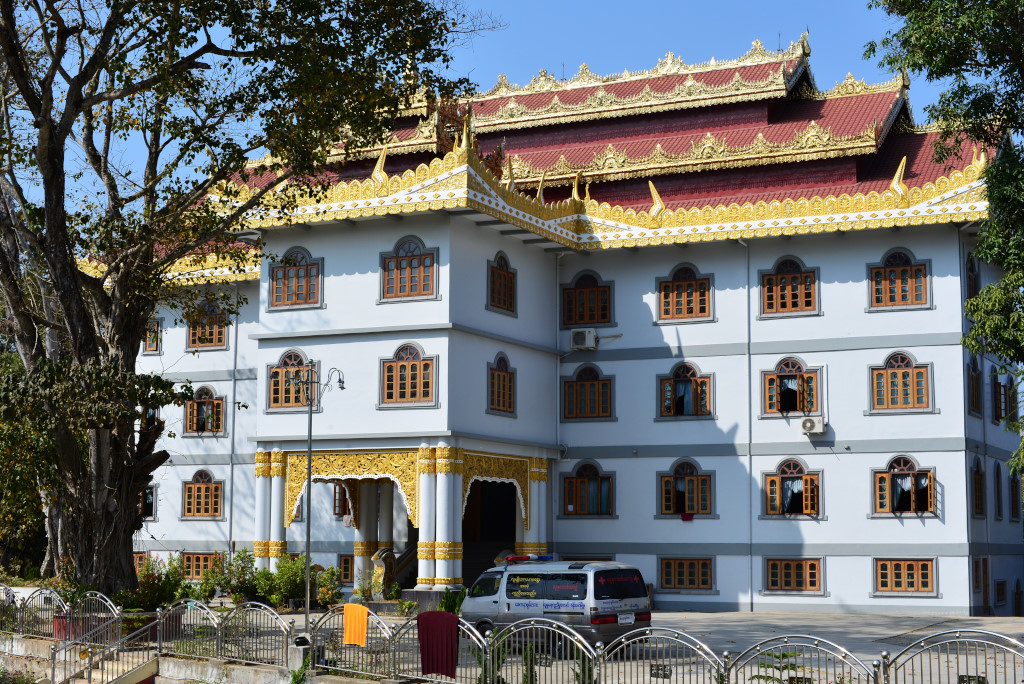 A pictorial placard illustrates all the ball propulsion moves that may be used in rattan ball, subtle variances in kicking technique garnering a unique label. Adjacent the most auspicious building, the two-storied structure with its tiered pagoda dripping in golden fascia and equally elaborate arched filigree screens lining the verandah, a tiny barbershop, its owner attending in meticulous detail to his customer's hairstyle, however conventional the final result may be.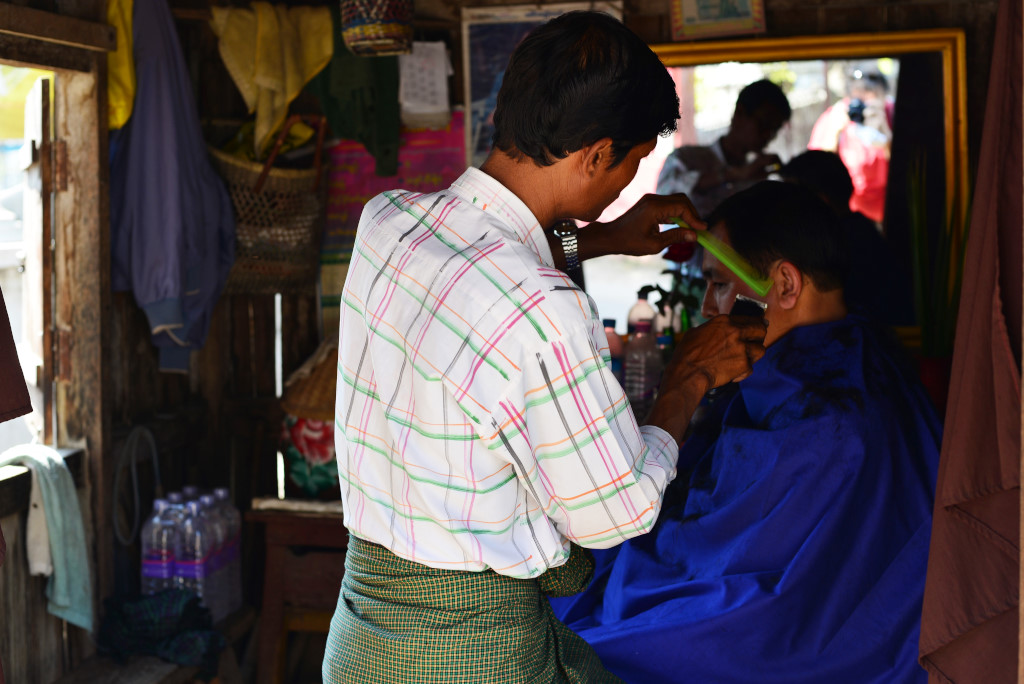 Taking photos is a point of entry into a rather hilarious conversation between myself and the men assembled next to the booth, the seated lawyer with the Sophia Loren sunglasses not looking up from his meticulous toenail clipping effort the entire time we speak, the very relaxed former monk slumped in his chair with the irrepressible smile, and the protagonist, with whom I attempt to piece together a largely misfired but highly entertaining conversation in both English and Burmese regarding my intentions here in Bhamo.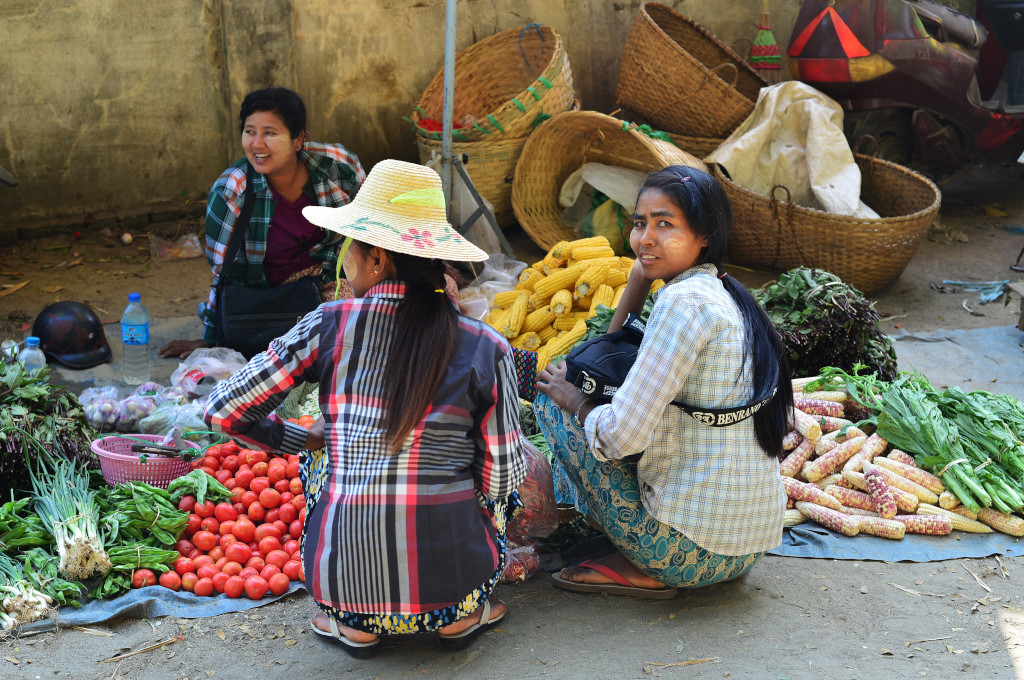 Towards the road shrouded in the broad green and red leaved trees arcing towards the riverfront, the sloppily erected tarpaulins signal a modest market area, groups of beaming women with their characteristic conical hats and chalk-laden round cheeks reclining on the ground lining the asphalt, the occasional young child nestled next to them on some blanket. The clientele reflects the demographic of the vendors, the occasional motorcycle-born man eyeing the modest arrangements of vegetables in front of each seller.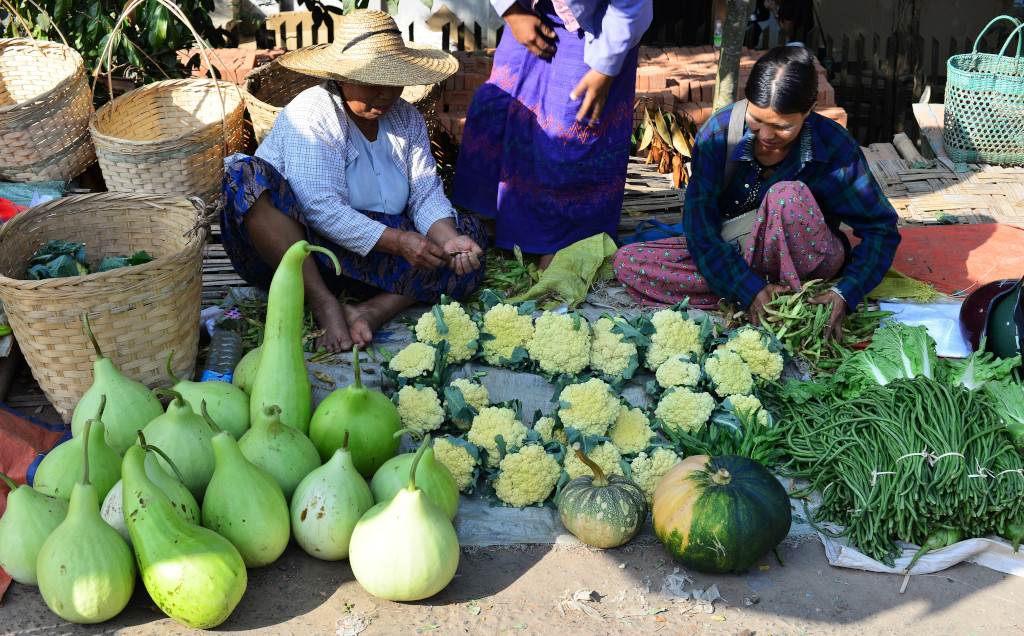 Most of the market is focused on produce, including squashes and other types of gourds, Anaheim peppers, tiny hot red peppers, gai lan, broccoli, cauliflower, eggplant, onions, mushrooms, various forms of cucumber, taro, green onions, lemons, tomatoes, as well as mint, chives, basil, some sort of aromatic root that looks like Jerusalem artichoke, ginger, and garlic. Beans are present both fresh, in pods and hulled, as well as dried, surprisingly popular in Burmese food, not to mention the various potatoes on display.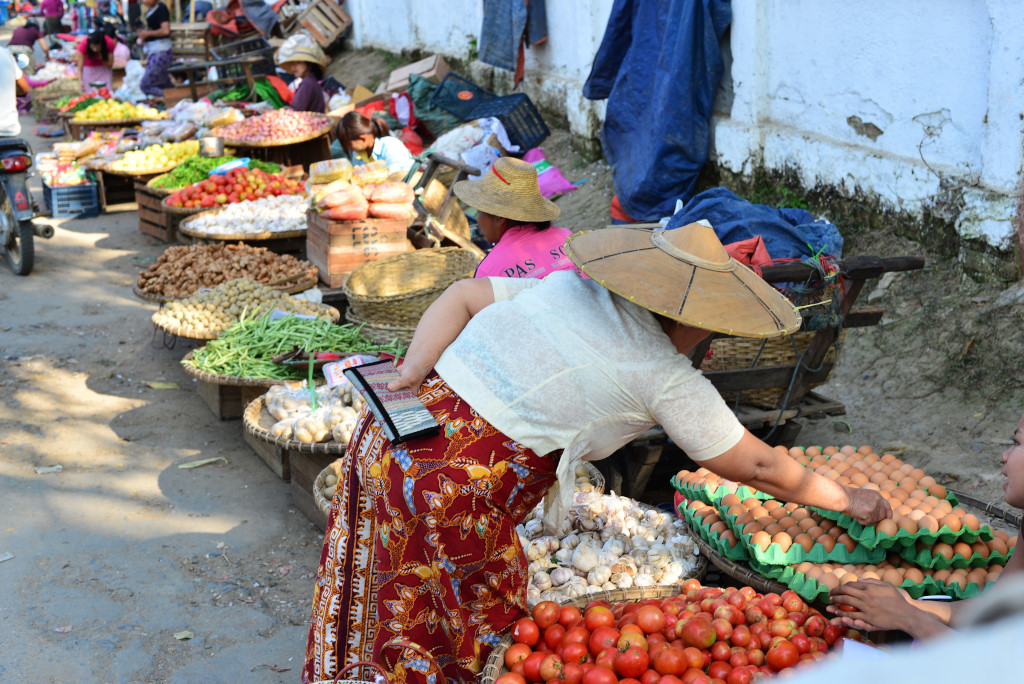 Sweet potatoes are often sold steamed on the street as a form of snack and in seemingly strange combinations with other fast foods. The various types of husked corn remind me how popular kernel and cob corn is here as well as Thailand. And I would really love to eat some fresh carrots …
Fruit is sold separately by independent vendors, including various types of oranges, mangoes, dragon fruit, avocado, grapefruit, apples, papaya. Further along I ask the price of oranges – 3 for 1,000 kyat, when the average worker makes 2 or 3,000 kyat a day? That seems pretty hard to believe.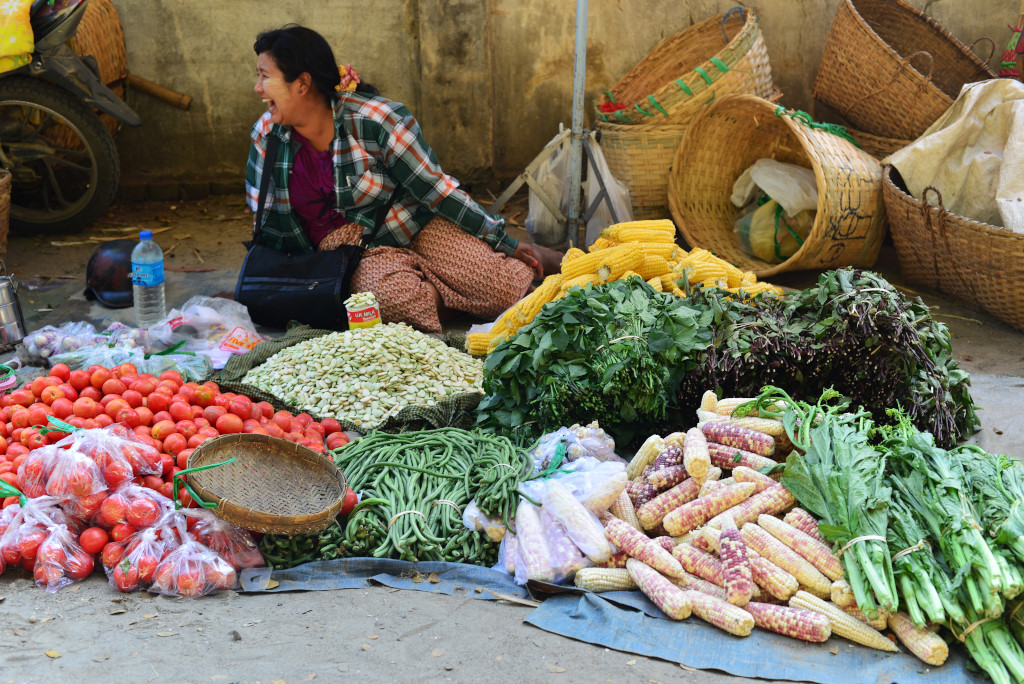 Time for a break in the Cafe Paradise, the succession of indulgent orders catching the attention of the young waitress, to whom I must be a Godsend, possibly reminding her of some young American she met once whom it seems she befriended but then forget about her altogether. But her mind is made up – she is going to America, and I will be helping her get there. Honestly, I came here to have a coffee and read my book, not indulge some remote fantasy of yours. But I can dampen her enthusiasm. Am I 25? 35? The age of her grandfather?! Well so be it, I can be her grandfather, but she needs to get to America.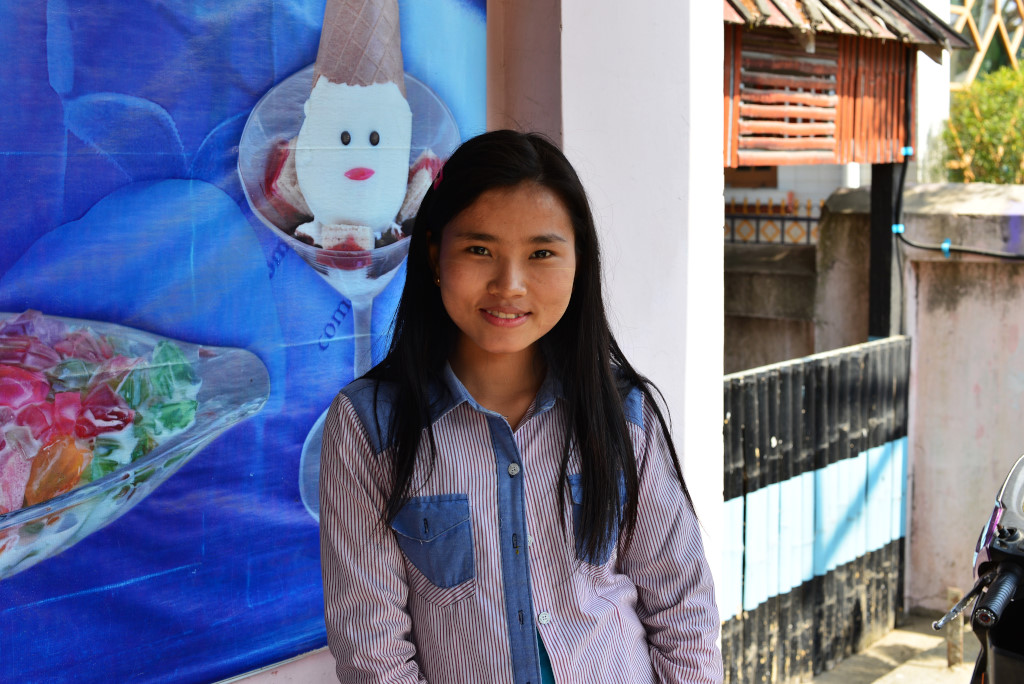 Other than a few years of accounting at a provincial Burmese university, some bookkeeping experience in this cafe, and a lot of motivation, I am not sure she has much to offer, never mind really comprehends how much is involved in realizing her dream. Why not aim for lower hanging fruit that may still far beyond your grasp, such as completing her education, getting a professional job with a big business in Yangon, and once she is marketable trying to get a job in Singapore, although even those challenges would be difficult to meet.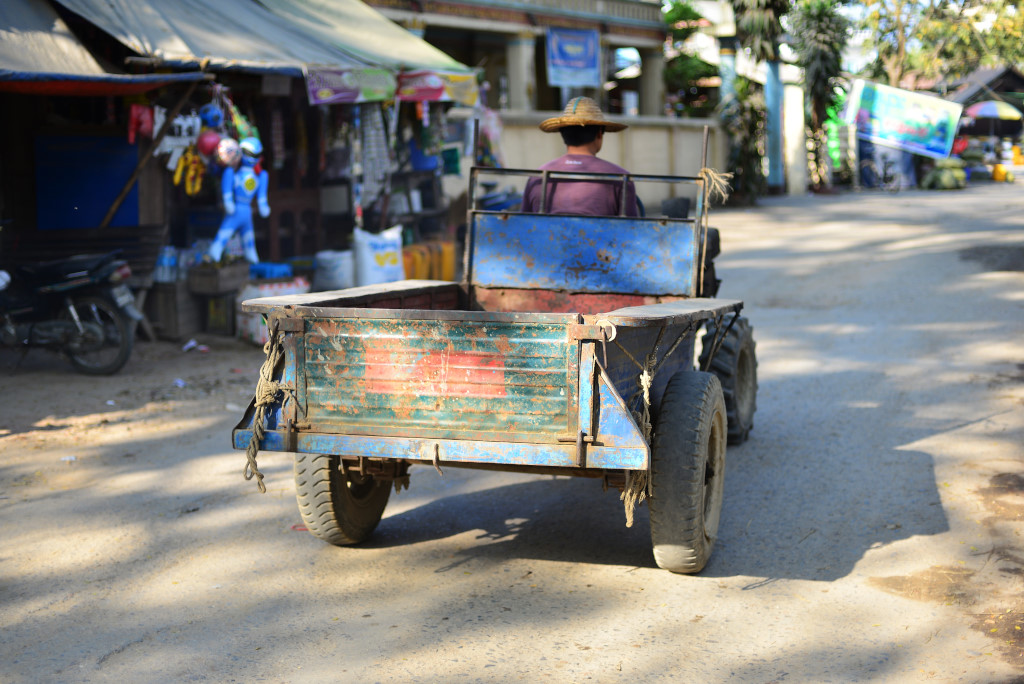 She keeps on repeating her mantra as I slowly try to explain her obstacles to her, including citizenship, lack of marketable education, lack of marketable work experience – not that I should be some paragon of marketability. I am becoming exasperated – she has done no homework, no research, has no real understanding of what she needs to undertake to get anywhere. A university degree from the University of Mawlimyine and work experience doing the books in a cafe in Bhamo while working in the restaurant probably wouldn't qualify her for much of a job in a serious business in Yangon, never mind anywhere else.
Back in the restaurant, my nemesis seems to have vanished, in fact, the entire crew is gone.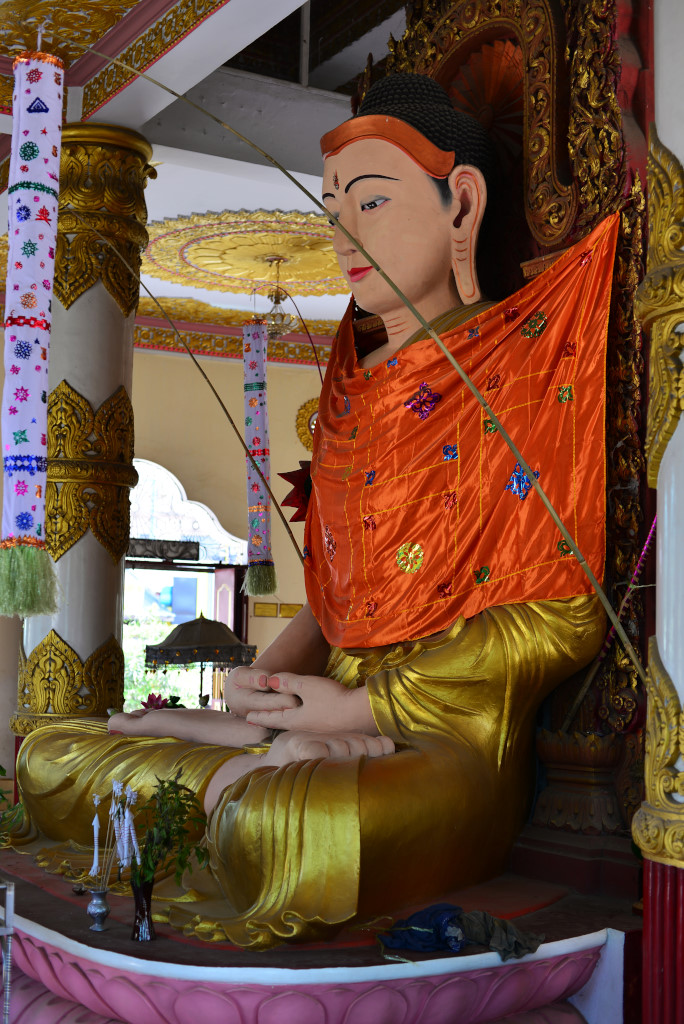 Perusing the menu in Burmese, Chinese and English, I face the usual quandary of no prices being included. Most of the menu contains what would either be expensive seafood items or entries that are inscrutable enough to distrust. So I stick to the Asian standards of noodles and rice fried every which way, with no specific idea as to what I am ordering, only hoping that it doesn't contain fish paste.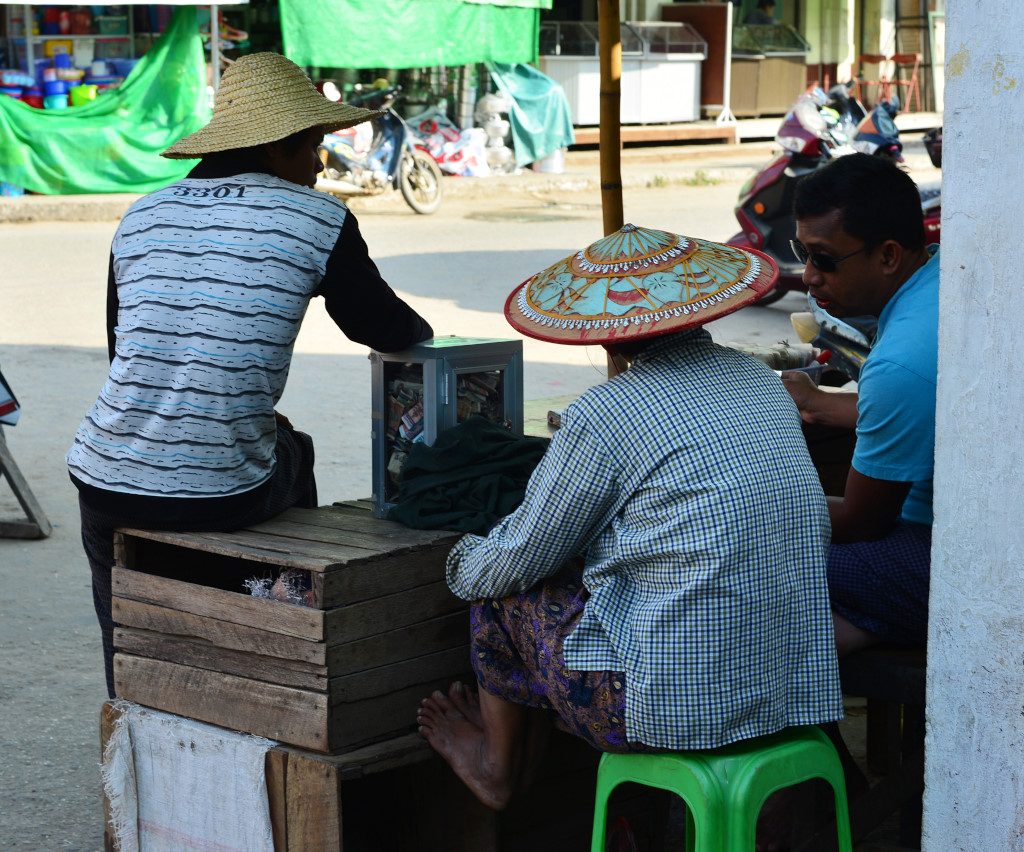 And I am not disappointed, the long wait being rewarded with a very flavorful dishes of fried rice prepared with finely chopped greens and herbs, complimented by a tiny dish of diced eggplant lightly braised in chili and some other herbs, in addition to a bowl of relatively clear vegetable broth with some thickening agent, and another tiny dish of coleslaw consisting of finely shredded cabbage, white onion, parsley, with lime juice and some oil. And the wait wasn't so bad, as it gave me time to slouch in my seat and enjoy the latest issue of the New Light of Myanmar.